Please kindly note:
Forms and Emails will only be monitored with urgency between 08.00AM and 20.00PM GMT ,
Please call +447790021000 for urgent response.

Starfish@Taxistandrews.co.uk
FAQ:
Partitions between driver and passengers,
Avoiding proximity and physical contact at all times,
Extra cleaning protocols,
Contactless payment option,
PPE supplied,
We do our very best to keep our drivers and passengers safe.
Please let us know if you have requirements beyond these measures, always happy to assist.
How to travel during Covid 19
Guidelines U.K.
Please follow the advice of the operator and driver.
For example, you may be asked to sit in the back left-hand seat if travelling alone. You may want to check with your taxi or private hire operator before travelling if they have put any additional measures in place.
You should use contactless payment if possible, or you can pay online in advance.
Be aware of the surfaces you touch. Be careful not to touch your face. Cover your mouth and nose with a tissue or the inside of your elbow when coughing or sneezing.
When possible at the end of your journey, wash your hands for at least 20 seconds or sanitise your hands as soon as possible, sanitiser is provided on board.
Safe travels and thank you for your attention keeping everyone safe.
The Starfish-Taxis.com team
Uber or Lyft do not operate in St Andrews and surrounding areas.
The most efficient transfer service is still run by local taxi companies.
Starfish Taxis' pricing is also more transparent and by booking in advance you can receive a fixed rate for your transfer. Ride shares are frequently available by local companies.
24 Hour service upon pre-booking.

Advance payment is not a necessity you can choose from the following methods:
Cash, Bank wire, or secured Card link
The preferred option is to pay by cash to the driver in the local Pound Sterling currency.
Advance payment can be done by bank transfer, (minimum 24hours in advance):
We can send you the invoice with bank details upon request.
Payment can be done by card at 5% admin fee:
We will send you a secure payment link or you pay by swipe to the driver.
Safeguarding your personal information is important to Starfish Taxis.
We recognize the discretion you entrust providing your confidential data under strict GDPR regulations.
Please read our Privacy Policy.
Our drivers have gone through a strict vetting process.
The logged details of the journey are comprehensive plus the journey is tracked via GPS.
We don't yet have wheelchair accessible vehicles in the fleet but can recommend some possible companies per area upon contact.
We can text or Email you a payment link to complete by card or bank wire.
Card payments are liable for +5% administration fee.
Advance payment may be required for long distance transfers.
Fill out our CONTACT FORM and we will get back to you with a fixed rate
Expect our quotation or confirmation:
– Over-night in under 8hours,
– During the day time max 3hours
More urgent attention required?
Call one of our friendly operators and get your response immediately.
☏ 00447790021000 
Simply scan the code with your camera and you will have all our details handy!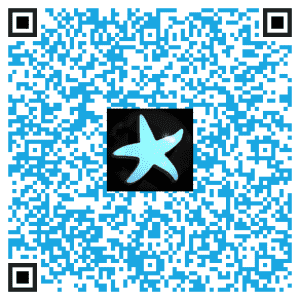 Safeguarding your personal information is important to Starfish Taxis and we recognize the discretion you entrust providing your confidential data under strict GDPR regulations.
Read our Privacy Policy &T&C's