Golf in St Andrews
Starfish Taxis is gevestigd in St Andrews "de geboortestad van de golf" Schotland.
Golf in St Andrews met zijn 7 golfbanen herbergt het grootste golfcomplex van Europa
Met indrukwekkende uitzichten vanop de links banen en tevens het oudste. Hier werd reeds golf gespeeld rond 1400 NC en het is nog steeds een droom voor zowel proffesionele golfers alsook hobbyisten.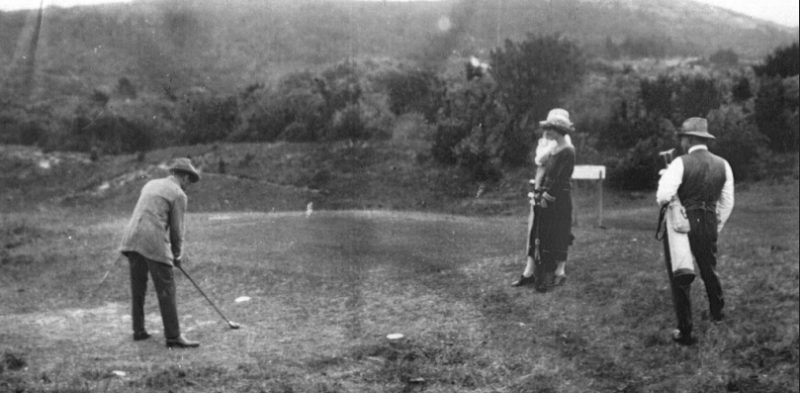 Geschiedenis
Golf was dus al populair in de middeleeuwen maar het spel werd gebannen door King Jacob II die vond dat het de jonge mannen afleide van het boogschieten.
Het verbod werd over behouden door de daarop volgende vorsten en uiteindelijk opgeheven door King James IV in 1502 die zelf een fervent golfer was.
In 1552 erkende aartsbisschop John Hamilton het recht aan de inwoners van St Andrews om golf te spelen op de Links.
Konijnen oorlog
In 1797, als gevolg van een tijdelijk faillissement verloor de raad van St Andrews de eigendomsrechten, zodat boeren een deel van de baan gebruikten om konijnen te fokken. In 1821 kocht landeigenaar James Cheape het terrein. Weldra werd golf weer populair en in 1894 koopt het stadsbestuur de baan weer terug.
The Royal and Ancient Golf Club of St Andrews
In 1754 werd door 22 heren de Society of St Andrews Golfers opgericht. In 1834 verandert Koning Willem IV de naam in de Royal & Ancient Golf Club (R&A). De club zal een grote rol spelen in de ontwikkeling van golf, van het spel en van de regels.
De Royal & Ancient Golf Club is tot de huidige dag een private club die enkel op uitnodiging bezocht kan worden. In 1995 wordt dan eindelijk een clubhuis gebouwd voor alle bezoekers. Het staat vlakbij de Old, New en Jubilee baan. In 2000 wordt het Eden Clubhouse geopend voor bezoekers aan de Eden, Strathtyrum en Balgove banen.
Vlakbij de 18de hole van het Old Course bevindt zich het British golf museum welk met relikwieën van een 600 jaar oude geschiendenis van het spel verteld.