Secure a local St Andrews taxi service to Edinburgh airport. Very professional and reliable in our Mercedes Benz 7-8 passengers.
Book us online, with confirmation.
EDI airport Shuttle to anywhere in Scotland
Choose Starfish Taxis for your comfort.
Extra service with meet and greet available.
Mercedes Benz up to 7-8 passengers with ample luggage space.


Please ask for a FREE highlight tour and let your chauffeur familiarise you with the historical town of St.Andrews.
Fixed fares to your destination. No surprises!
Travel in comfort:
Our professional chauffeurs are fully licensed and trained with finesse, discretion and excellent local knowledge.
Our vehicles are very recent and maintained to the highest standards with leather seats and air-conditioned compartments for your comfort. Most of our fleet runs Mercedes Benz.
Also for your convenience driver will meet & greet you at the airport arrival lounge, holding a most noteworthy board with your name.
No waiting time is charged for delayed flights up to 45mins,
We will monitor your Edinburgh flight and your taxi driver will arrive at the airport on time.
Thereafter £5/quarter hour.
FAQs about Edinburgh Airport Transfers:
Partitions between driver and passengers,
Avoiding proximity and physical contact at all times,
Extra cleaning protocols,
Contactless payment option,
PPE supplied,
We do our very best to keep our drivers and passengers safe.
Please let us know if you have requirements beyond these measures, always happy to assist.
How to travel during Covid 19
Guidelines U.K.
Please follow the advice of the operator and driver.
For example, you may be asked to sit in the back left-hand seat if travelling alone. You may want to check with your taxi or private hire operator before travelling if they have put any additional measures in place.
You should use contactless payment if possible, or you can pay online in advance.
Be aware of the surfaces you touch. Be careful not to touch your face. Cover your mouth and nose with a tissue or the inside of your elbow when coughing or sneezing.
When possible at the end of your journey, wash your hands for at least 20 seconds or sanitise your hands as soon as possible, sanitiser is provided on board.
Safe travels and thank you for your attention keeping everyone safe.
The Starfish-Taxis.com team
Uber or Lyft do not operate in St Andrews and surrounding areas.
The most efficient transfer service is still run by local taxi companies.
Starfish Taxis' pricing is also more transparent and by booking in advance you can receive a fixed rate for your transfer. Ride shares are frequently available by local companies.
24 Hour service upon pre-booking.

NO, this is a fully licensed private door-to-door taxi service.
You can request for an option to share and if a suitable option becomes available you can still choose to opt in.
Advance payment is not a necessity you can choose from the following methods:
Cash, Bank wire, or secured Card link
The preferred option is to pay by cash to the driver in the local Pound Sterling currency.
Advance payment can be done by bank transfer, (minimum 24hours in advance):
We can send you the invoice with bank details upon request.
Payment can be done by card at 5% admin fee:
We will send you a secure payment link or you pay by swipe to the driver.
Starfish taxis suggests to depart St Andrews at least 3h20min before an international flight departure. The journey by road will take approximately 1hour 10minutes.
Traveling on public transport by bus, train and tram will cost in the region of £20 per person and we suggest to count a bare minimum of 2 hours 30 minutes for the journey.
Safeguarding your personal information is important to Starfish Taxis.
We recognize the discretion you entrust providing your confidential data under strict GDPR regulations.
Please read our Privacy Policy.
Preferably you book your 24hrs taxi in advance, that leaves all parties prepared.
You can do so by filling out our CONTACT FORM, or by phone on 00447790021000
Your driver will contact you by phoning or text message upon flight arrival and they will instruct you to the meeting point at the "Pick Up Zone".
Follow this MARKER LINK for instructions to the exact location

IF meet and greet service was requested at the time of booking your driver will come to the door at arrivals 30 minutes after landing, they will be holding your name sign just when you enter the main terminal building.
Please wait there and look out for your name board.
We operate comfortable Mercedes Benz MPV minibuses that will fit 7 to 8 passengers.
There is ample luggage space and we provide secure box trailers to accommodate Golf gear or excess bagage requirements.
Drop us an inquiry form and we will assist with all possible questions.
Luggage Point Storage service provides short to longer term storage space to leave your valuables inside the Edinburgh Airport terminal.
Pricing will vary per item.
Duration starts from just a few hours to several days and even weeks!
Ask a member of the Luggage-Point team for more details.
Alternatively they also provide a convenient shipping service.
The cheapest taxi fare from St Andrews to the airport in Edinburgh starts from just £120.
Traveling by public transport; Bus Train and Tram will cost aproximately £22 per person. Consider the small price difference for comfort and time if you are a group of people traveling.
Starfish Taxis recommends leaving St Andrews minimum 2 hours and 30 minutes before a domestic flight departure. The journey takes approximately 1 hour and 10 minutes, which should leave you 1 hour 20 minutes to check in your luggage and get through security. At peak traffic times please leave yourself 15 minutes extra.

St Andrews town centre to Edinburgh airport:
Journey time 1h10min by car.
Journey time by Bus – Train – Tram 2h10min.
The usual journey to Edinburgh airport from St Andrews will take 70 minutes,

Fairmont Hotel to Edinburgh airport will take 75 minutes
Where will we meet ?:
Your first impression of Scotland begins with a warm welcome therefore,
meet and greet service is included in the quote provided parking cost up to £4 with 1h flight delay included.
Our chauffeur will be waiting to greet the guests with a personal greeting card at the arrival gate coming into the terminal.
Also your driver will be on hand to help carry the luggage while escorting to the vehicle consequently arrive at your destination relaxed and stress free.
We will monitor your flight and meet you 30min after flight touchdown.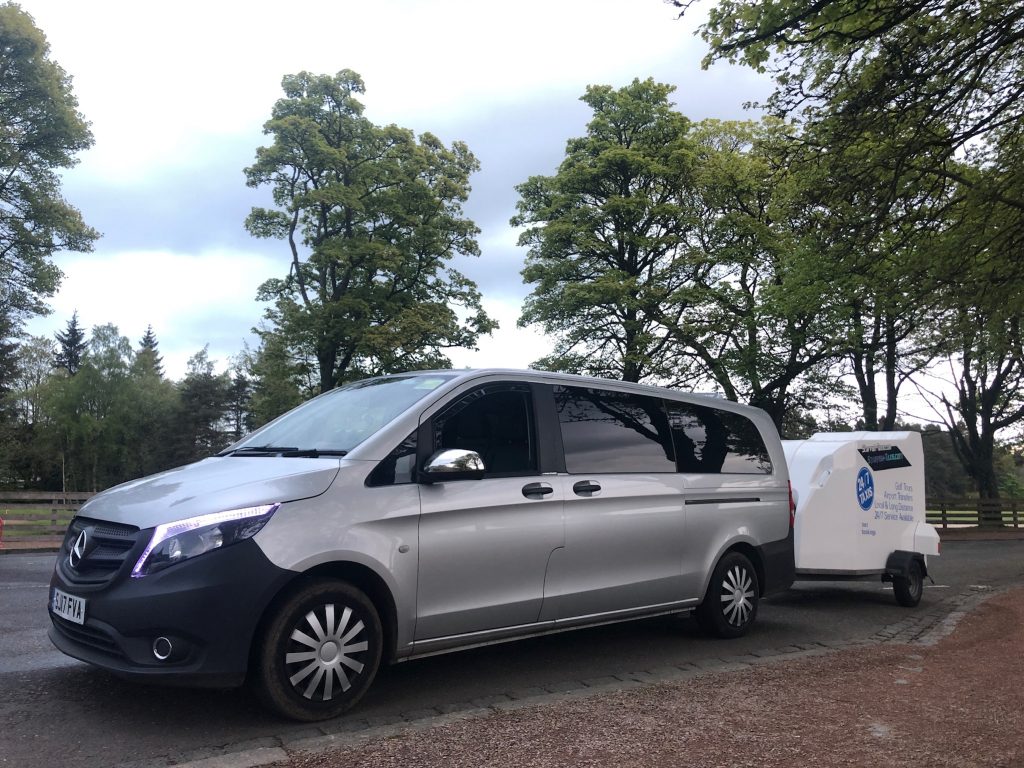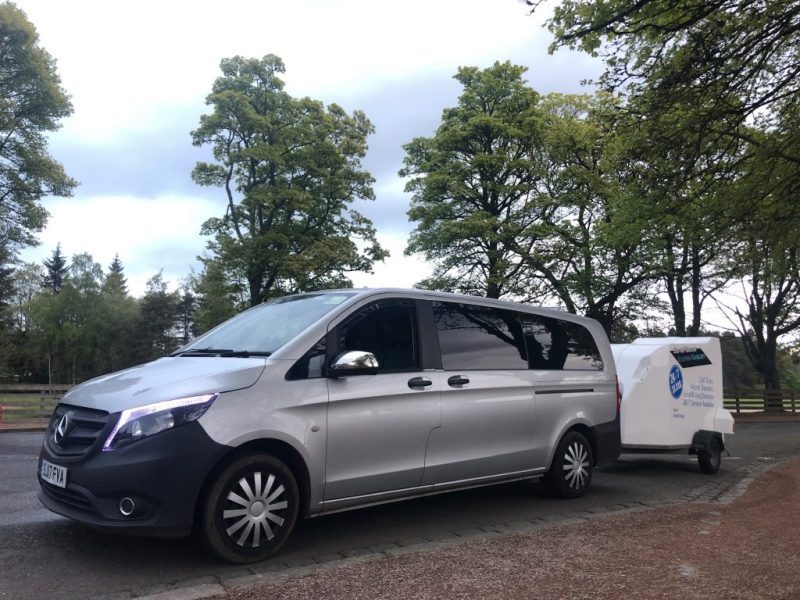 Taxi for golfers with golf bags and luggage / St Andrews taxi to Edinburgh airport
Our St.Andrews to EdI airport taxi service includes
For your convenience our driver can welcome you at the airport arrival lounge with a name board.
Our parking costs at Edinburgh airport are included in the Transfer Quote up to £5
A FREE highlight tour around St Andrews old town center focusing on your interest.
No upfront payment required just pay the driver for the job done.
No extra charge in case of flight delay up to 40mins. (We will monitor your flight on arrival).
Appropriately licensed and comprehensive insured and clean taxi-hire vehicles.
Payment methods:
The preferred option is to pay by cash to the driver in the local Pound Sterling currency.
You can prepay via bank transfer,
we can send you the bank details upon request.
Payment can be done by card:
PLEASE NOTE: not all drivers have the facility so we need to be notified in advance.
Baggage handling at Edinburgh airport for lost or delayed luggage
Baggage handling and delivery is the responsibility of the airline from the point of check-in to the point of collection.
If anything is left or lost on board an aircraft, please contact the airline immediately.
Some airlines provide a replacement service for baggage which has been damaged in transit.
For details please contact the relevant airline directly.
Contact Delayed or lost Luggage at EDI airport
0044 131 344 3486
edinburgh@luggage-point.co.uk

| | |
| --- | --- |
| Airport Contacts | Telephone Number |
| Baggage and Check in Assistance | +44 (0)870 040 0007 |
| Immigration Enquires | +44 (0)131 887 1111 www.bia.homeoffice.gov.uk |
| Customs and Excise | +44 (0)131 344 3251 |
| Freight and Cargo | +44 (0)141 207 9168 |
| Lost Property | +44 (0)131 344 3486 |
| Valet Parking | +44 (0)870 737 0778 |
| MINICOM | +44 (0)131 344 3100 |
| Lounge bookings | +44 (0)131 344 3473 |
| Edinburgh Airport Parking | +44 (0)870 8444 000 |
| Police | +44 (0)131 311 3131 |
| Taxi | +44 (0)779 002 1000 |
| National Rail enquiries | +44 (0)0845 7484950 |
Executive travel in our Mercedes vehicles

Flight destinations from Edinburgh airport transfer.
View the flight destinations here.


Facts about Edi Airport:
The control tower handles about 120,000 aircrafts a year, this number keeps increasing as the airport expands. The Tower meets the sky for 57meters.
At night it lights up in changing colors, it becomes even more of a site-icon.
10,000,000 + Passengers travel every year.
Taxi Fare Guide from Edinburgh airport to:
Up to 4 Pass
5 to 8 pass
Aberbnethy
£110
£150
Albany hotel St Andrews
£130
£150
Anstruther
£140
£160
Auchtermuchty
£110
£150
Balmerino
£130
£160
Balmullo
£130
£160
Blebocraigs
£130
£160
Boarhills
£135
£160
Cambo Estate
£135
£160
Cellardyke
£140
£160
Ceres
£115
£160
Colinsburgh
£130
£160
Craigrothie
£115
£160
Crail
£140
£160
Cupar
£125
£160
Drumoig
£125
£160
Dundee City centre DD1
£140
£170
Dundee Ninewells Hospital
£140
£170
Dunino
£130
£160
Earlsferry
£135
£165
Elie
£135
£160
Fairmont Hotel St Andrews
£140
£170
Falkland
£110
£160
Fernie Castle Cupar
£120
£150
Gateside
£110
£155
Gauldry
£125
£160
New Gilston
£120
£160
Grange or Lindores and Lindores (Distillery)
£130
£160
Hotel Dundee Malmaison, Apex, Indigo, Holiday inn
£140
£160
Inn at Lathones and Largoward
£130
£160
Kilconquhar Castle Estate Elie
£130
£160
Kincaple lodges
£125
£160
Kingsbarns Golf Course
£140
£160
Kinkell byre St Andrews
£130
£160
Lower Largo
£125
£160
Lundin Links
£125
£160
Morton of Pitmilly Holiday resort Kingsbarns
£140
£160
Newburgh Fife Scotland
£130
£160
Newport on tay DD6
£135
£160
Old course hotel St Andrews
£130
£160
Peat inn
£130
£160
Pitscottie
£125
£150
Pittenweem
£130
£160
Leuchars Train Station
£130
£160
Saint Andrews
£130
£160
St Andrews Rusacks hotel
£130
£160
St Monans
£130
£160
Springfield near Cupar
£125
£160
Strathkinnes
£130
£160
Strathmiglo
£110
£160
Tayport DD6
£130
£160
University of St Andrews
£130
£160
Wormit DD6
£130
£160
EXTRA LUGGAGE TRAILER
AIRPORT PARKING COST & MEET AND GREET
+£40
+£10 approx.
+£40
+£15
Above prices as indication, Prices may vary upon service request.
Edinburgh Airport is abbreviated EDI and located in Ingliston 5.58 miles (9.3km) west of the city centre.
Edinburgh Airport features a single domestic arrival terminal and International arrivals 1 + 2
Yet it has a great range of destinations.
The passenger Pick up and drop off zone are just 3 minute walk across from the terminal under the multi storey car park.