Taxi Leuchars Train Station for St Andrews railway station. Advance booking service for Taxis and Cab service.
More info on Leuchars station facilities

Your driver will meet you at the stairs after you cross over the pedestrian bridge.
Recognisable by your name sign.
Or simply get us to collect you from Edinburgh Waverley train Station (follow link for info)
St.Andrews train station cab | Leuchars Taxi | Book Leuchars taxi online | TaxiCab Meet &Greet ! Desktop to doorstep.
Pricing estimate for a taxi meter fare from the train station to St Andrews:
| Taxi fare guide Leuchars Railway Station Taxi to St Andrews prices starting from: | Day | Night |
| --- | --- | --- |
| St Andrews Town Centre | £15 | £19 |
| David Russell & Fife Park, Student Apartments St Andrews | £16 | £19 |
| Agness Blackadder Student Halls St Andrews | £14 | £18 |
| Fairmont Hotel | £24 | £30 |
| Old Course Hotel | £14 | £18 |
| The Castle Course | £20 | £25 |
| The Albany Hotel | £15 | £19 |
| Montague Guest House St Andrews | £15 | £19 |
| Hotel Du Vin St Andrews | £15 | £19 |
| St Andrews University – College hall | £15 | £19 |
*** Above estimations valid at daytime 06AM <> 10PM | Night time +25% | Secure online and get a fixed tariff
Estimated Taxi fare Leuchars Railway Station Taxi :
Postcode
Estimated minimum Taxi fare from Leuchars Scotrail , Cross country and LNER Train Station:
Day
Night
KY 9
Elie and Earlsferry,
Kilconquhar, (and Kilconquhar estate)
Largoward
Colinsburgh

£40
£36

£35

£26
£36
on request
KY10
Anstruther,
Cellardyke,
Kilrenny,
Pittenweem,
St Monans,
Crail,
Arncroach
From £40

From £45
On request
KY15
Cupar town centre,
£17-£21
From £20
on request
KY14
Newburgh,
Auchtermuchty,
Strathmiglo,
Gateside,
Grange of Lindores,
Dunbog,
Lindores,
Glenfarg,
£40
£38
£40
£45

£38
£35
£45
£50
From £45
on request
KY15
Blebocraigs,
Ceres,
Kilmany,
Falkland,
Ladybank,
Freuchie
£15
£19
£15
£44
£30
£30
on request
KY16
St Andrews,
Kingsbarns, and Cambo estate
Dunino,
Guardbridge,
St. Michaels,
Balmullo
£15
£30
£24
£5
£5
£8
On request
DD6
Newport-on-Tay,
Wormit,
Balmerino,
Gauldry
Tayport
£14

£14
£19
£16
£15
£20-£25
DD1
Dundee city centre,
£27
On request
*** above are estimations on fares, Fixed fare quotations available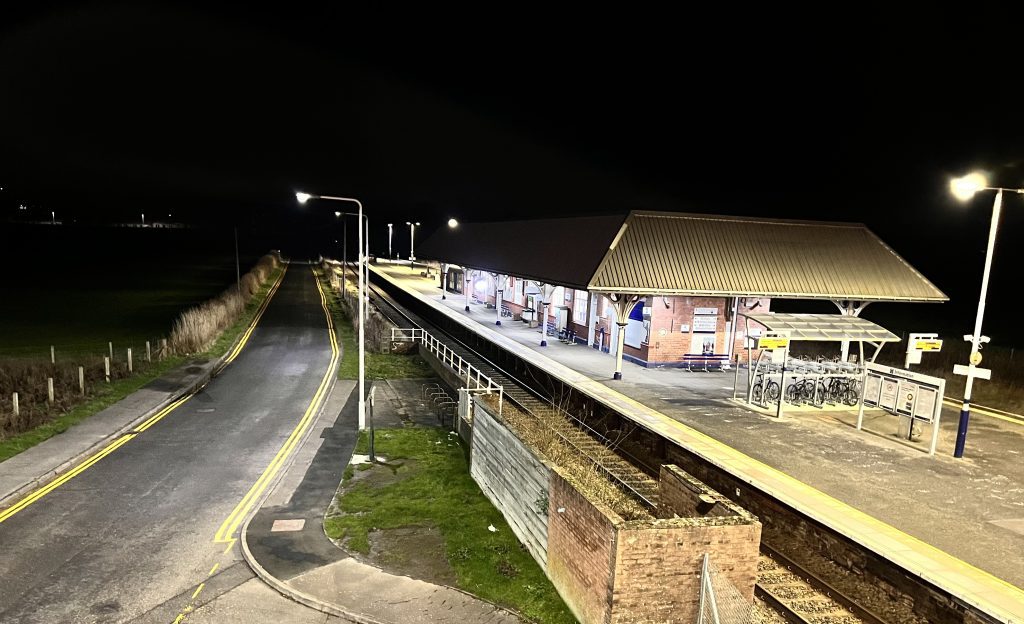 Leuchars Station General Info
(Pronounced 'Loohkars')
Drop-off / Pick-up points
Your driver will welcome you at the bottom of the pedestrian bridge once you crossed the tracks and will be holding a sign with your name upon!
*We will monitor your train for delays
FREQUENTLY ASKED QUESTIONS:
We can build the perfect family (multiple) day tour tailored to your interests, your time schedule, unique to your itinerary.
-Private driver / guide , with a wealth of information and tips ….
Whisky – Food – History – Castles – Highlands – and so many things you haven't even imagined… We will not disappoint!
Get in touch to see if ours is the service you are looking for?

Contact our tour department at STARFISH TRAVEL via the dedicated website
We look forward to try and answer your questions without any obligation.
We are happy to wear face coverings for the comfort of our passengers.
Feel free to ask.
Safe travels and thank you for your attention.
The Starfish-Taxis.com team
Uber or Lyft do not operate in St Andrews and surrounding areas.
The most efficient transfer service is still run by local taxi companies.
Starfish Taxis' pricing is also more transparent and by booking in advance you can receive a fixed rate for your transfer. Ride shares are frequently available by local companies.
24 Hour service upon pre-booking.
NO, this is a fully licensed private door-to-door taxi service.
You can request for an option to share and if a suitable option becomes available you can still choose to opt in.
Advance payment is not a necessity you can choose from the following methods:
Cash, Bank wire, or secured Card link
The preferred option is to pay by cash to the driver in the local Pound Sterling currency.
Advance payment can be done by bank transfer, (minimum 24hours in advance):
We can send you the invoice with bank details upon request.
Payment can be done by card at 5% admin fee:
We will send you a secure payment link or you pay by swipe to the driver.
Generally the cab journey St Andrews > Leuchars will take 15 minutes from the town center,
The Distance is about 4 to 6 miles or just under 10km
Train journey Leuchars to Edinburgh about 1 hour
Leuchars to Dundee 10 minutes.
Safeguarding your personal information is important to Starfish Taxis.
We recognize the discretion you entrust providing your confidential data under strict GDPR regulations.
Please read our Privacy Policy.
We operate comfortable Mercedes Benz MPV minibuses that will fit 7 to 8 passengers.
There is ample luggage space and we provide secure box trailers to accommodate Golf gear or excess bagage requirements.
Drop us an inquiry form and we will assist with all possible questions.
You can find the time table for train arrivals and departures for Leuchars here
Leuchars Station (1848) is situated on the southwestern edge of the village on the A919.
Platform one is southbound direction Edinburgh
Platform two northbound direction Aberdeen
Leuchars connects London King's Cross via Edinburgh or Aberdeen line.
From here, you can board a train to a variety of destinations also including York, Newcastle and London Kings Cross, without having to make changes along the way.
Connect to Scotrail services across the whole of Scotland from the UK's most northerly station of Thurso, all the way down to Gretna Green.
Their train service operates to Carlisle in the north of England.
Taking the train is one of the best ways to enjoy the stunning landscapes of our country, with some places only accessible by rail.
Have a look at this downloadable MAP OF SCOTRAIL STATIONS AND CONNECTIONS
Also check out the Caledonian Sleeper trains which runs at night from the centre of London to Scotland train and vice versa from Leuchars to London LNER train station.
Leuchars Staffing Hours

Monday to Friday: 06:20 to 21:45
Saturday: 06:20 to 21:45
Sunday: 10:10 to 22:15
Leuchars railway station waiting area.
The ticket office is situated within the heated waiting room and there is a train and bus timetable information board.
The ticket office is fitted with an induction loop for deaf and hard of hearing people.
Leuchars car Parking.
There are 2 payable car parks for the station with approximately 300 spaces, both car parks are adjacent to the taxi rank next to the access bridge.
There are 13 designated spaces for Blue European Parking Badge Holders near the entrance to the car park.
Car parking is currently £1 charge per 24 hour period for using these car parks.
Up to 7 days can be purchased via the Pay & Display Machine.
Up to 30 days can be purchased via RingGo (cashless parking).
Buses from Leuchars
The bus turning circle is 10 metres from the ramped bridge. A covered walkway leads from the ramped bridge to the bus shelter. The bus stop has dropped kerb access from the car park, shelter facilities, timetable information and an electronic departure screen.
Bus timetable information is also displayed in the station waiting room.
A 'St Andrews Railbus' ticket is available providing a through ticket for journeys to St Andrews. Buses to St Andrews are very frequent.
Leuchars station Taxi Ranks
There is a taxi rank adjacent to the ramped bridge.
Telephones
A public telephone is situated on the station platform opposite the station bridge.
This phone takes cards only
There is a ticket machine located on Platform 1.
All trains serving this station carry on-board ramps for wheelchair users.
Toilets
The Ladies and Gents toilets are free of charge and are situated in the waiting room.
(Please be aware there may be different measures during Coronavirus)
The Disabled and Baby Changing facilities are free of charge and are situated on Platform 2. To use the Disabled and Baby Changing facilities, a key must be obtained from the ticket office staff. IThe toilets are open only during staffing hours.
Rail Enquiries
Electronic information screens are available on both platforms as well as in the heated waiting room and at the Help Point.
Timetable information is available on both platforms and in the waiting room.
Cycle Facilities
There are 8 lockers located in the car park and a rack for 6 bikes beside the taxi rank. There is also a rack for 5 bikes located on the platform opposite the ramped bridge. Users must provide their own padlock (lockers) or bike lock (racks).
CCTV
There are CCTV cameras throughout the station building, on both platforms and in the car park for your safety.
Leuchars (for St. Andrews) (LEU)
Leuchars (for St Andrews) station
Station Road
Leuchars
Fife
KY16 0AA

Alight here for the Fife Coastal Path and National Cycle Network.
Starfish taxis also offers luggage transfers if you are walking the Fife coastal path