We offer taxi services from Edinburgh city Waverley railway station to St.Andrews.
You will receive an all inclusive door to door service.
So feel free to drop us a no obligation price inquiry and we will be in touch shortly.
Also for tourists there is a FREE tour included touching the highlights of Saint Andrews when traveling with Starfish-Taxis.com.
We pride our East Fife coastal town and therefor offer this free tour of St.Andrews.
Edinburgh city Waverley railway station to St.Andrews transfers as of £145.
Unregistered cars or can no longer enter Waverley station for safety reasons.
Therefor we have new designated pick up points:
We Can meet you at the exit of MARKET Street.


Meet your driver in front of the MARKET STREET EXIT (marker) as taxi pick up point at Edinburgh city Waverley railway station to St.Andrews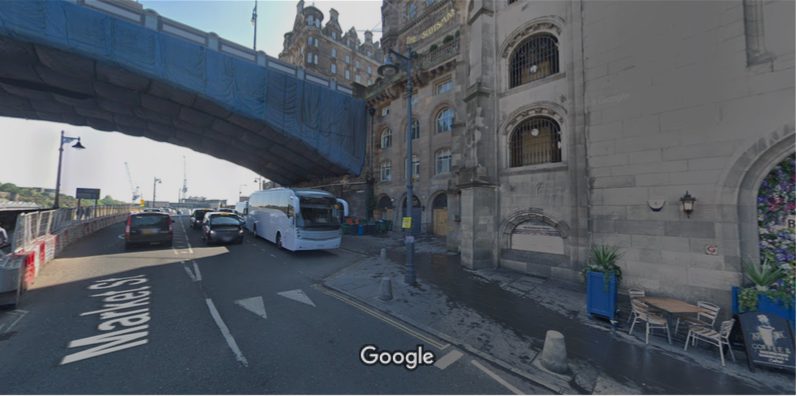 If you wish to continue to secure a taxi with us we will give you clear instructions on how to find us easily We will be at the google marker after your call.
The closest rail station to St.Andrews is Leuchars an lies still about 5 miles from the historic town.
Traveling by taxi Edinburgh city center and Waverly takes about 1h25mins if traffic allows.
We offer larger cars and minibuses to accommodate for luggage, golf clubs and special needs.
Train times
The times and prices will vary depending on the day, so it is best to prepare your travel plans, but it is almost always cheaper to book your advance train ticket.
It is usually around £15 for a single adult ticket between Waverley and Leuchars.
This train can take around an hour to get to StAndrews (again this varies depending on the train and the time of day). To check times and prices, visit the National Rail website.
About the Station
Edinburg Waverley railway station is the main railway station in the Scottish capital Edinburgh (there is another within the City Centre called Haymarket).
Ticketing generally regards Waverley and Haymarket as interchangeable (subject to operator validity); the choice of name for the new 'Edinburgh Park' station to the west of Haymarket has made the precise definition important, though Edinburgh also has four other Stations within the City – which are all west of Haymarket- South Gyle, Slateford, Edinburgh Gateway Kingsknowe & Wester Hailes.
Edinburgh city Waverley railway station to St.Andrews