Starfish Taxis from St Andrews to Glasgow in comfort:
Reserve your taxi airport transfer between St Andrews and GLA Airport starting from just £185
Advice on travel time:
St Andrews to Glasgow intl. : +/- 82 mi,1 hour 55 Mins starting from £185
Other locations on demand and extra parking charges (£10) may apply for pick up.


Our St Andrews Glasgow Airport Transfer service:
Starfish offers a range of taxi services to individuals, groups and B2B looking for stress-free airport transfers. between Glasgow Airport international and anywhere in Fife and beyond or St.Andrews.
We also provide group transfers, parties transfers, as well as corporate transfers for larger groups.
Our vehicles include saloon and estate cars, and MPV vehicles.
Fixed fare to all destinations.
The price we quote you is the price you'll pay and all inclusive and are not affected by traffic delays or diversions.
We take into account how many people travel, what time of day or night and where your traveling from.
FAQs on Transfers:
Partitions between driver and passengers,
Avoiding proximity and physical contact at all times,
Extra cleaning protocols,
Contactless payment option,
PPE supplied,
We do our very best to keep our drivers and passengers safe.
Please let us know if you have requirements beyond these measures, always happy to assist.
How to travel during Covid 19
Guidelines U.K.
Please follow the advice of the operator and driver.
For example, you may be asked to sit in the back left-hand seat if travelling alone. You may want to check with your taxi or private hire operator before travelling if they have put any additional measures in place.
You should use contactless payment if possible, or you can pay online in advance.
Be aware of the surfaces you touch. Be careful not to touch your face. Cover your mouth and nose with a tissue or the inside of your elbow when coughing or sneezing.
When possible at the end of your journey, wash your hands for at least 20 seconds or sanitise your hands as soon as possible, sanitiser is provided on board.
Safe travels and thank you for your attention keeping everyone safe.
The Starfish-Taxis.com team
Uber or Lyft do not operate in St Andrews and surrounding areas.
The most efficient transfer service is still run by local taxi companies.
Starfish Taxis' pricing is also more transparent and by booking in advance you can receive a fixed rate for your transfer. Ride shares are frequently available by local companies.
24 Hour service upon pre-booking.

NO, this is a fully licensed private door-to-door taxi service.
You can request for an option to share and if a suitable option becomes available you can still choose to opt in.
Advance payment is not a necessity you can choose from the following methods:
Cash, Bank wire, or secured Card link
The preferred option is to pay by cash to the driver in the local Pound Sterling currency.
Advance payment can be done by bank transfer, (minimum 24hours in advance):
We can send you the invoice with bank details upon request.
Payment can be done by card at 5% admin fee:
We will send you a secure payment link or you pay by swipe to the driver.
Safeguarding your personal information is important to Starfish Taxis.
We recognize the discretion you entrust providing your confidential data under strict GDPR regulations.
Please read our Privacy Policy.
Preferably you book your 24hrs taxi in advance, that leaves all parties prepared.
You can do so by filling out our CONTACT FORM, or by phone on 00447790021000
We operate comfortable Mercedes Benz MPV minibuses that will fit 7 to 8 passengers.
There is ample luggage space and we provide secure box trailers to accommodate Golf gear or excess bagage requirements.
Drop us an inquiry form and we will assist with all possible questions.
The journey from Saint Andrews to GLA Airport will take you aproximately 3hours. (*Subject to time of travel and date) This will most likely be Bus – Train – Train – Bus.
Head to St Andrews busstation, from there you take the bus Leuchars Railway station (Platform 2) and board the train to Dundee Railway station. From Dundee Railway station head to Glasgow Queen Street where you can take the 500 Airport Express bus towards Glasgow Airport
The usual journey time from St Andrews to GLA Glasgow airport will take just under 2 hours. At peak times we suggest to leave an extra 15 minutes to allow for traffic. We are happy to assist determining your ideal departure time. Please check your flight departure time here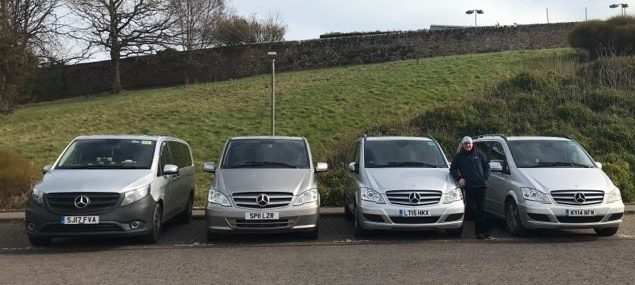 Travel in style and comfort:
Our professional drivers are fully licensed friendly and trained with finesse for discretion and profound local knowledge of St.Andrews and the locality.
Your driver will meet & greet you at the arrivals area of the airport, holding a board with your name up on.
No waiting time is charged for delayed Glasgow flights up to 45minutes,
We will monitor your Glasgow city flight in real time and your driver will arrive at the airport faultless and punctual.

No payment is required at time of booking:
You pay directly to the driver after the transportation. Service prepayment upon request.
You can pay via card directly to the driver but note there is a 5% admin cost
Meet and Greet:
Our driver can meet you at Glasgow international GLA airport depending where your flight is coming from, respectively at domestic or international arrivals.
If you Contact us we'll give you an option to avoid the £5 extra charge for meet and greet as we face high parking costs and waiting time.
AIRPORT TAXI SERVICE ST ANDREWS GLASGOW.