Starfish Taxis operates a reliable taxi cab service out of St Andrews.
Rated ***** Excellent on TripAdvisor!
Our service provides the best quality and cost efficient:
AIRPORT TRANSFERS – SIGHTSEEING TOURS – LINKS GOLF TOURS
and TRAIN STATION TAXIS in & around the Kingdom of Fife, Scotland.
Sightseeing Tours
Our sightseeing tour expert division would be delighted to assist you composing your Scotland sightseeing experience.
Explore those Scottish castles with legendary tales and impressions of breathtaking lochs and glens complemented by our finest whisky and food.
Once in a lifetime!
Bespoke private tours range from a half- to multiple days of travel.

We always pride ourselves on customer satisfaction by providing our customers with a safe, reliable and comfortable private hire service, always offering you great value for money airport transfers.

For first time visitors arriving at any airport Starfish offers a complimentary "wee"highlight tour of our beautiful St.Andrews.
Discover all about the historic tourist attractions, insider tips on our finest restaurants, pubs, golf courses and more…
– FREE OF CHARGE! –
Simply ask your driver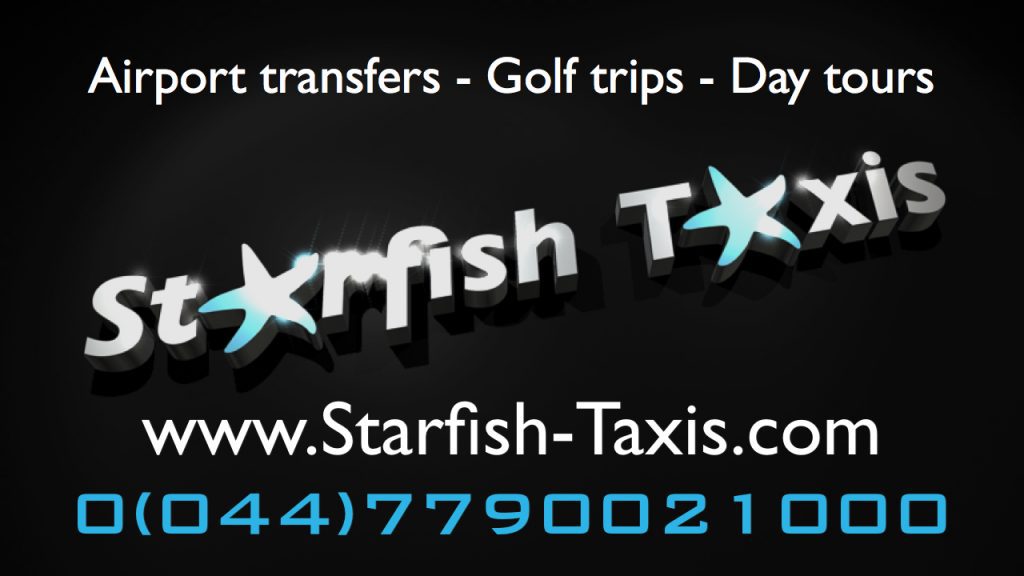 "Fabulous people, wonderful service!!!"





– Lynn & Ken (Tripadvisor)

Our taxi cab prices departing from St Andrews city centre start from:
(based on 2 passengers)
Edinburgh airport £90 (Students at £85 presenting a student card)
Glasgow airport £140 (Students at £135 presenting a student card)
Aberdeen airport £140 (Students at £135 presenting a student card)
Dundee airport £45 (Students at £40 presenting a student card)
Fairmont hotel £10
Fairmont hotel to Edinburgh airport £95
Leuchars train station £14 – £18
Kingsbarns £20
Cupar £25
Edinburgh city and Waverley station £100
Carnoustie and Golf courses £70
Gleneagles and Golf courses £100
Crail town centre £25
Crail golf course £30
Anstruther town centre £25
Pittenweem £29
Lundin links £30
Tayport £28
Glenrothes £47
Kirkcaldy £59
Dundee £35-£50
Any destination we can give you a no obligation quote
Company and driver policy:
Starfish taxis has been operating since 2011.
We proudly hope to be able distinguish ourselves in the details;
High standard Mercedes vehicles with carefully selected professional drivers.
Executive and VIP concierge service available on request
Starfish runs a strict no smoking policy but we are always happy to provide comfort breaks.
Understanding that reliable service and punctuality is an integral part of any trip.
Planning our daily work schedule requires leaving room for flexibility in traffic delays with ad hoc changes further we have implemented several control mechanisms in the booking process on first contact to eradicate problems later on.
Good communication regarding delays and cancellations on the traveler's part is vital.
Essentially a reputable reliable service is our main priority,
aiming to arrive early at every booking.
The planning process aims to leave out stress situations for the drivers this has a direct effect on road safety and passenger's comfort.

Finally our drivers complete a daily check form on the fundamental safety of their vehicles such as mechanical, electrical, tyres and overall cleanliness.
The largest passenger capacity taxi cab available covers up to 8 passengers with ample luggage space for transfers. We do provide excess luggage trailers for golf and other equipment.
Booster/Child seats always available on request, or feel free to bring your own and we shall keep them safe for the return journey.

Cab companies in the North east fife area are in abundance.
Some of the bigger scope St Andrews taxi companies include Golf City Williamsons and Club Cars.
Together they provide a fleet of about 60 cars.
Taxis without advanced booking to Edinburgh airport run at £155-£160 so do make sure to give us a call to get our very competitive rates.
Do you value integrity, professionalism & first class service in your travel experience? Contact us Starfish Taxis,airport transfers, Sightseeing St Andrews

We believe that constant evaluation of our operation secures the highest level of service.


– Tim Snoeks proprietor

Contact us:
St Andrews Taxis Starfish
Fliskwood cottage –
KY14 6HP
Tel: 00447790021000 – StarFish@taxistandrews.co.uk
24/7 by advance booking 2018 By Starfish Taxis – Airport transfers – Sightseeing tours