Taxi St Andrews to Royal Dornoch transfer.
Our Golf Transport service caters to small golfing groups who require transfers between an airports, golf course and hotel.
We can collect you from St Andrews, Edinburgh airport or Carnoustie to bring you to Royal Dornoch Golf Club
We also provide private transfers from your St Andrews hotel or residence to any of Scotland's famous golf courses.
Our 9 seat people carriers can accommodate up to 6 and 8 passengers respectively, for those traveling with their own clubs we can provide a luggage trailer to carry all of your baggage safely.
Tariffs
St Andrews to Royal Dornoch golf club 4h30min

Edinburgh to Royal Dornoch golf club 4h00Min

Carnoustie to Royal Dornoch golf club
Championship Course at Royal Dornoch Golf Club
The par of 70 is evenly distributed over the two halves each having two par threes, a par five and six par fours. If the wind blows the course will demand more from the player especially the par four finishing hole where a par can be considered a birdie.
With revetted pot bunkers, rough that's tough but not impossible, stunning views across Dornoch Firth and simply sensational holes, this is truly golfing heaven.
Royal Dornoch Golf Club
 Golf Road
 Dornoch IV25 3LW
 Sutherland
 Scotland
Both courses are open to the public throughout the week although there are pre-booked times on the Championship Course which are reserved for members only.
Day tickets for each course, or a daily combination ticket for 1 round on each course, are available.
To book a tee off time either :
Phone : +44 (0)1862 810219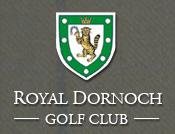 Fax : +44 (0)1862 810792
E-mail : bookings@royaldornoch.com
Struie Course
The Struie course shares with the Championship Course the incredible natural landscape that defines golf in Dornoch and the tranquillity of this unspoilt northerly location. The Struie course may always be the Championship course's little sister, but she has now blossomed into mature womanhood as a course worthy of considerable respect in her own right. In 2011 Golf Digest ranked the Struie as 50th best links course in the Great Britain and Ireland.
The Struie is a relatively flat course played over links land fairly forgiving rough of errant shots of which several holes are lined with deep gorse.
The bunkers are appropriately, even strategically, placed and the greens all putt fast and true. The five greens of new holes constructed at the turn of the century are exceptionally large, moderately undulating and are an adventure to putt.
While the Championship course offers views of the sea and Tarbetness the Struie provides the hills to the west and the Royal Burgh of Dornoch with the cathedral as the central point.