Taxi transportation from St Andrews to Troon
Our taxi company is based in St Andrews Scotland, therefor we specialize during the golf season in Golf transfers from St Andrews to Troon as well as Carnoustie and Gleneagles, offering comprehensive insured licensed taxi vehicles for the job.
With our experience as well as our pricing tailored to fit your purpose we can offer budget taxis, 8 seater vehicles and executive travel.
We offer 24h service for advance bookings.
If you are searching for ways to get from St Andrews to Troon don't hesitate to contact us for a price inquiry tailored to your needs.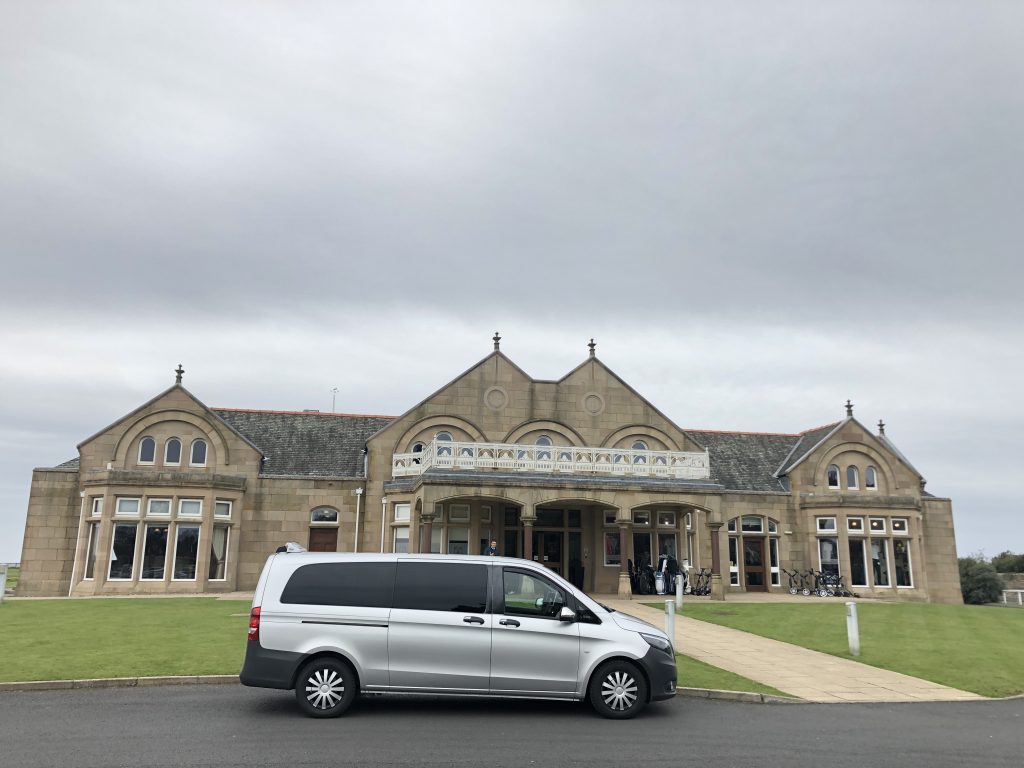 Obviously we offer you a taxi quotation without obligation!
The Open Championship returns to Royal Troon from Sunday 10th July until Sunday 17 July 2016 which will be the 145th Open Championship.
Once again the worlds' finest golfers will gather to do battle for the famous Claret Jug on the West Coast of Scotland over one of the country's finest links courses.
Please do not hesitate to contact us and we will be happy to prepare our best quote for a transfer Package suiting your requirements during the 2016 Open Championship
Distance by taxi from St.Andrews – Troon
114 mi, +/- 2 hours 20 mins
Distance by taxi from Carnoustie – Troon

138 mi,

+/-

2 hours 32 mins
Distance by taxi from Gleneagles – Troon
78.8 mi, 

+/-

1 hour 30 mins
Hotels near Troon golf course:
Piersland House Hotel
Craigend Road, Troon, South Ayrshire, KA10 6HDThe Marine Hotel
Crosbie Road, Troon, South Ayrshire, KA10 6HELochgreen House Hotel
Monktonhill Road, Southwood, Troon, South Ayrshire, KA10 7ENThe 50C
Templehill, Troon, South Ayrshire, KA10 6BEOld Loans Inn
Main Street, Troon, South Ayrshire, KA10 7EXManor Park Hotel
Monkton, Prestwick, South Ayrshire, KA9 2RJPremier Inn Ayr
Kilmarnock Road, Prestwick, South Ayrshire, KA9 2RJThe Muirhouse Lodge
43 Kilmarnock Road, Monkton, Prestwick, South Ayrshire, KA9 2RJMuirhouse Country Lodge
41 Kilmarnock Road, Prestwick, South Ayrshire, KA9 2RJNorthbeach Hotel
5 / 7 Link Road, Prestwick, South Ayrshire, KA9 1QGPrestwick Old Course Hotel
13 Links Road, Prestwick, South Ayrshire, KA9 1QG
Golf View BandB
17 Links Road, Prestwick, South Ayrshire, KA9 1QG
Parkstone Hotel
Ardayre Road, Prestwick, South Ayrshire, KA9 1QN
Golf View Guest House
17 Links Rd, Prestwick, South Ayrshire, KA9 1QG
Firhill Bed and Breakfast
3 Seabank Road, Prestwick, Ayrshire, KA9 1QS
8 Regent Park
8 Regent Park, Station Road, Prestwick, South Ayrshire, KA9 1FQ
Prestwick Guest House
12 Monkton Road, Prestwick, South Ayrshire, KA9 1AR
The Hollies
4 Station Road, Prestwick, South Ayrshire, KA91AQ
Firhill
3 Seabank Road, Prestwick, South Ayrshire, KA9 1QS
Eliock Cottage
215 Main Street, Prestwick, South Ayrshire, KA9 1LH
Fernbank Guest House – Prestwick
213 Main Street, Prestwick, South Ayrshire, KA9 1LH
Westwinds House
2 Monktonhill Road, Troon
Tel: 01292 319955
Woodlea B&B
66 Dundonald Road, Troon
Tel: 01292 310619
Sandhill House
Southwood Road, Troon
Tel: 01292 311801
Rosedale Guest House
9 Firth Road, Troon
Tel: 01292 314371
Bargany B&B
27 Titchfield Road, Troon
Tel: 01292 314623
Tigh Dearg
31 Victoria Drive, Troon
Tel: 01292 311552
The Cherries
50 Ottoline Drive, Troon
Tel: 01292 313312
Collenan House
38 Leven Road, Troon
Tel: 01292 313239
No.2 Troon Road
2 Troon Road, Loans, Troon
Tel: 01292 679927
Hotels in Troon
South Beach Hotel
Southbeach, Troon
Tel: 01292 312033
Old Loans Inn
31-33 Main Street, Loans, Troon
Tel: 01292 315976
Piersland House Hotel
Craigend Road, Troon
Tel: 01292 314747
Self Catering & Rental in Troon
Welbeck Crescent Apartment
Welbeck Crescent, Troon
Seascape
St Clair Terrace, Troon
Tel: 01292 313312
Bradan Road Apartment
Bradan Road, Troon
Tel: 07770 220830
Portland Villa
Templehill, Troon
Tel: 0777 329 7674
Bay View
Welbeck Crescent, Troon
Tel: 01223 813188 or 07952 559132
Little Troon Haven
Wood Road, Troon
Tel: 0794 721 5280
Troon Beachfront 
Titchfield Road, Troon
Tel: 0787 908 7881

Bentinck Drive
Bentinck Drive, Troon
Tel: 01442 874984
Seaview
North Shore Road, Troon
Tel: 07818 065 386
Troon Beachfront
Titchfield Road, Troon
Tel: 0787 908 7881
Hillcrest Cottage
Southside Farm, Corraith Road, Troon
Tel: 01292 312534
Hillhouse
Troon
Tel: 01292 676400
Troon Apartment
Welbeck Crescent, Troon
Tel: 07703 163201
The Mews at Sandhill House
Southwood Road, Troon
Tel: 01292 311801
Accommodation Near Troon
Kariwak B&B
2 Holmston Drive, Ayr
Tel: 01292 267392
The Barrels
52 Main Street, Monkton
Tel: 01292 671391
Gailes Hotel
Marine Drive, Gailes, Irvine
Tel: 01294 204040
Fairways Cottages
17 Links Road, Prestwick
Tel: 01292 671234 / 470396
Gardenrose B&B
14 Gardenrose Path, Maybole
Tel: 01655 889845